Why sanitation is so important for keeping pests out of food
Abell Pest Control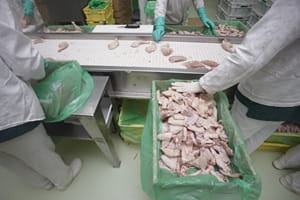 There's nothing worse than finding a worm crawling through a delicious apple. However, pests often end up inside food or infesting boxes of it, causing major product loss for corporations. Facilities that store and package food are ideal places for pests to get comfortable. These places have three things pests need: food, water and shelter. So, they don't mind making their way into a facility and staying for a while. Once they have arrived, they can be hard to get rid of and can make the business as a whole suffer. Sanitation is a major factor behind this problem. Consider these ways to keep the facility clean.
Outdoors
Pests can be a problem both outside and inside your food storage plant. A few outdoor sanitation tips include:
Monitoring the grounds:Make sure your property isn't littered with trash or has an open container for garbage, Food Safety Magazine noted. These two factors can attract pests and cause them to try and find out what's going on inside. Ask employees not to litter and make sure any trash from the facility is taken out at the appropriate time. If you have any containers of water lying around, this could attract mosquitoes. Dump them out to prevent bugs from breeding on your property and to from giving pests a source of water.
Keeping an eye on openings: Of course, it's important to check for any new cracks or crevices in the property. Make sure those are closed up before the pests come out in the warmer months of the year. However, it's also important to keep an eye on vents that the facility needs. Vents can dispense small particles of food onto the roof that can attract pests. Regularly clean the vents and the roof to make sure no pests come looking.
Indoors
A couple indoor sanitation tips include:
Check drains and filters: Certain types of drains and filters in facilities may become a place for pests such as fruit flies to breed if you aren't careful. It's important to consistently check these drains and scrub them out to make sure that no flies or food is getting trapped in there. Pouring water or other chemicals down the drain won't be sufficient.
Buy the right equipment: All equipment in the factory should be able to maintain a clean environment, whether it uses self-cleaning mechanisms or takes other sanitation procedures.
Train employees: If the machines don't clean themselves, it's important employees are trained in how to properly clean a machine or pieces of equipment, Webber Training stated. Asking them to follow the right sanitation methods can help bring cleaner food into stores.