How first time homebuyers can get the deck and patio summer ready
Abell Pest Control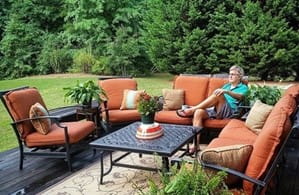 One of the exciting facets of a being a first-time homebuyer is unveiling your deck and backyard to friends and family during the summer months. You can relax outside or host a barbecue - but many first-timers don't know how to get their decks and patios protected against the pests of summer.
Here are the pests to watch out for this upcoming summer:
Mosquitos
These are the ultimate pests for any summer outing. After just a few minutes, you may be slapping your legs to try to get mosquitos away from you. First-time homeowners can mosquito-proof by removing any standing water - like from a birdbath or an overflowing flower pot - that might become a breeding ground for mosquitos. The next step homeowners can take is to throw out their citronella candles. Consumer Reports found that these candles, along with a battery-powered diffuser, couldn't keep mosquitos away. Instead, the publication prefers an oscillating fan to make sure these bugs stay away. In addition, if your party runs into the evening, turn on LED lights - which act as a repellant.
Flies
House flies can be a nuisance when you're trying to relax outdoors. They may even contaminate your food. These pests "mark their territory" when they land on food by regurgitating on it - so stay away from any burgers house flies touch! They could transmit diseases like E. coli or salmonella. To keep them away, make sure foods are tightly covered - and dispose of any extras immediately, as that could entice flies to linger. You can also hang fly paper near the doors and windows to make sure that if you take the party inside, the flies won't try to follow. Or use lemon to keep these pests away. Keep a few slices in a decorative bowl to deter flies from interrupting the party, Today.com recommended. For an extra dose of protection, sprinkle ground cloves over lemon slices - flies can't stand the smell. You can also add a few drops of fresh lemon juice to 1/2 cup water and spray down your tables. The flies will stay away - and your guests will never discover your secret!
With these tips, you'll be able to host barbecues and bonfires all summer long without worrying about pesky flies or mosquitos. Here's to a relaxing summer!