Hotels must band together to manage pests
Abell Pest Control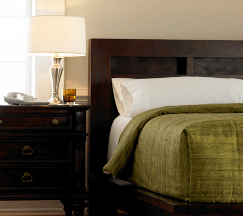 Hotels earn a bad reputation as silent carriers of bed bugs. It can feel impossible for travelers to actually relax in their rooms when they're constantly fretting about these small pests that can quickly jump from the comforter to a piece of luggage. Hotel owners may see a competitor's bed bug outbreak as a chance to steal customers, but some resorts are taking a different approach: They're working together. Sometimes working with your competitors is the best way to combat a problem, as West Hawaii learned when trying to deal with fire ants.
A new approach to pest management
West Hawaii is home to lush resorts and golf courses - but fire ants can terrorize guests, frustrate hotel owners and create a negative impression in a sector that relies heavily on tourism. Hotels would deal with infestations on their own - but as one resident noted, if your neighbor has fire ants, you soon will to.
In order to cope, residents and 33 representatives from hotels and resorts banded together to increase awareness and education about fire ants.
"This is the first time we've had a major interest from hotels and resorts, and this is one of the largest landscaper groups we've worked with so far," Michelle Montgomery, research specialist with Hawaii Ant Lab, told West Hawaii Today. This all-inclusive approach has helped stop fire ants from spreading, ultimately creating a more positive experience for hotel owners and customers alike.
What Canadian hotel owners can learn
What can hotel and resort owners in a cooler climate learn from West Hawaii? Teamwork and education are both essential to keep pests away - especially during peak tourism seasons.
Hotel owners can work alongside landscapers and service staff to learn how different pests spread and the best precautions to take. For instance, to assure customers that the risk of exposure to bed bugs is low, hotels can wash sheets in hot water, as the high temperature kills them.
In addition, owners can bring in a pest management company like Abell. We can alert you to other pests - like rodents or flies - that could negatively impact the image of the resort and provide recommendations on how to keep them at bay. These preventative measures can put you and your customers at ease.
Bed bugs don't have to ruin your summer season. To learn how Abell Pest Control can help your business keep bugs away, call today to speak to one of our specialists.