3 ways to avoid bringing fruit flies home
Abell Pest Control
In the summer months, people love to stock up on fresh fruits and vegetables. Some even venture to farmers markets where the food is cheaper. However, not only do fruits come home with you, fruit flies may too. Once they've gotten acclimated in your home, they might stay all summer. These pests breed quickly, and tend to spread through whatever food you've got around. They also are happy to join in on any meal you have, be it a sit-down dinner or a barbecue in your backyard. Worst of all, like other flies, they carry disease. Consider these tips on how to prevent fruit flies from coming home with you.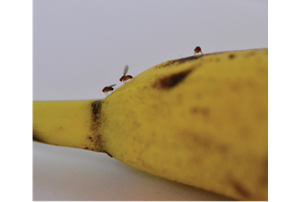 Wash your food
As soon as you get home, it's important to wash all fruit or vegetables you've brought home. Not only will that get off any dirt or grime that they have accumulated, it also may get rid of pests. While some major produce providers use pesticides, not all do. This is especially true if you're coming home from a farmers market. Pests can get into the basket that all the fruit is carried in, or they may come all the way from the farm. Even worse, if they've been there long enough, they may have gotten inside your fruit. Fruit flies love rotting fruit, but if a rotting piece is near a few fresh pieces, they won't mind checking out the other ones. You might have a considerable surprise when you finally open the fruit up. Washing it will allow you to see if there are any small holes in the fruit, which will indicate if the fruit has been infested. Washing is especially important for melons and bananas, which have a tendency to have a sticky residue on the outside.


Cover up
If you already have fruit flies in your house, you don't want them getting at the new goods. Cover up your fruit bowl with plastic wrap to prevent these pesky pests from flying in and getting comfortable. If the bowl is left uncovered, flies will happily move into the bowl and dig through to find any rotting fruit. Once one fruit goes bad, the rest of the bowl will spoil thanks to these flies.


Keep it clean
Fruit flies don't only go after fruit. They love any sticky residue they encounter. That means any beverage spills, crumbs or food residue is fair game. Make sure to always wipe down counters to prevent these pests from buzzing in.