3 easy ways to keep bugs away from your campsite
Abell Pest Control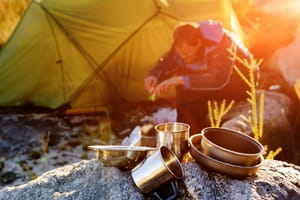 During the summer months, some people love to go camping with family and friends. Yet this fun trip can be ruined with a few unwanted visitors, most notably different types of bugs. Crawling spiders, hungry mosquitoes and buzzing flies can become annoying quickly. How can you avoid these pests when you're outdoors? Consider these tips to keep bugs out of your campsite.
Consider your location
When it comes to avoiding bugs, some campsites may be better than others, Eagles Nest Outfitters noted. Look for sites on high, dry ground. Not only will you get a better view of the land, but you're less likely to interact with pesky pests. Certain bugs such as mosquitoes prefer low, wet grounds where they can breed. That means if your site is on a lake, you may want to be farther from the water than you might like. Avoid stagnant water, going too deep into the woods and picking areas surrounded by high grasses, which may have ticks.


Think about your smell
Believe it or not, sometimes your smell can attract a plethora of bugs, Club Kayak advised. People who wear sweet-smelling perfumes, lotions, colognes and deodorants, or who have intense-smelling shampoos and conditioners may be more likely to attract bugs than the average person. If you're normally one of these people, consider changing it up on your camping trip. No, this doesn't mean avoiding deodorant. The smell of sweat can also attract bugs such as fruit flies and mosquitoes. Instead, use products with little to no scent and aim to stay cool.


Be mindful of food
All pests, no matter their size, will come if there's food lying around. If you're planning on staying a few nights, you most likely will have some food with you. Keep food contained in plastic to prevent smells from wafting. Place these containers in an area like your car, not your tent. This will prevent bugs from flying into your tent looking for a quick snack. You should also keep the campsite itself clean. Make sure to bring trash bags to pick up any dropped food, plates and utensils. Find out if there's a place you can dispose of this trash daily. Don't bury food, as bigger animals could easily dig this up when you aren't around. If you don't have trash bags, burn the food in your campfire. Always rinse off any cookware that can't be disposed of, such as a small grill or pots and pans.