3 ways to keep ants out of your grill
Abell Pest Control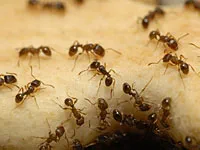 Ants can be a real pain, especially in months with higher temperatures. They literally get into everything, whether it's an outdoor picnic, a party or even just lunch outside. It seems like these little creatures are everywhere and can quickly make a good time go bad. One of their favorite spots is near a barbecue grill, so they can dig into every meal you make. So what's a homeowner to do? Consider these tips to keep ants out if you don't want grilled ant for dinner.
Get to know your ant
Before you do anything, it's important you get to know the enemy, Family Handyman suggested. Do a little research online to figure out what kind of ant you're dealing with. Learn its daily habits, including what it likes to eat, when it comes out and where it likes to nest. Getting to know these important facts will help you get rid of this pest. If you can't figure out what kind of ant you're dealing with on your own, take a picture of it and send it to your local university extension service, which will be able to identify the ant for you and possibly give you some tips on how to get rid of it.


Keep your patio or deck clean
If you constantly find ants roaming around your deck or patio, they're most likely there because of leftover food or drink, Lifehacker stated. It's important for you to constantly keep a clean deck or patio, especially the area near your grill. Sweep up any crumbs and wash down the surrounding areas with soapy water to deter any scent or crumbs from remaining. If ants have nothing to feed on, they'll be more likely to hit the road and look for a new home.


Eliminate the scent
Ants never travel alone. Instead, they travel in massive colonies. While some ants may venture from the pack, others are sure to follow due to a trail of pheromones they leave behind. Other ants use this scent to help track down their friends. If you want to get rid of ants near or on your grill, you need to get rid of this scent. The best way to do it is using a little vinegar and water. Mix one part vinegar with three parts water into a spray bottle and disperse around your problem area. This will break the scent trail and disorient any ants you have.