Prevent greater numbers of carpenter bees by catching the problem early
Abell Pest Control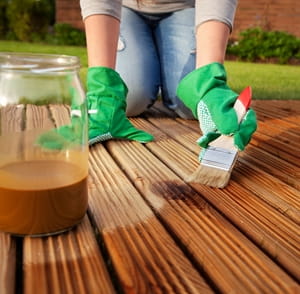 Early summer may offer homeowners the best hope of preventing an influx of carpenter bees from infiltrating the exterior surfaces of their houses by season's end. If these pests have already mated on your property this spring, they're busy burrowing into wood fixtures of your dwelling in early summer to lay their eggs.
Unless you take significant steps in home pest control or rely on the pest control management of experts like those at Abell Pest Control, you could be facing the addition of a new generation of carpenter bees outside your house when hatching takes place at the end of the summer.
Carpenter bees are drawn to eaves, decks, wood siding and window and door trim to create a series of tunnels in the woodwhere they can place their eggs. Unfortunately for homeowners, once they find a location they like, they're probably going to return to it in future years. Whether they create new tunnels or make the old ones bigger, the damage they leave behind in the wooden supports of your home can be extensive.
Homeowners often mistake carpenter bees for bumble bees when they're seen flying around their property. In spring, they become particularly aggressive as they try to set up housekeeping on your property. Males don't have stingers, although they're more likely than females to dive toward humans that are nearby. The female bees are equipped to sting if they feel threatened when humans approach.
Call the experts
One way to discourage carpenter bees from settling into your property is to paint wood that's become weathered from the elements or is bare and untreated by stains or paint. Carpenter bees gravitate toward bare, unpainted wood, and this is the simplest step you can take to discourage them.
If they've already arrived for the duration of the mating and new life cycles, they've probably done some work in undermining your home's exterior wood areas. All is not lost, however, and pest services can inspect the situation, treat the problem and make recommendations for future actions homeowners can take to prevent another infestation.
Like many pest issues, homeowners sometimes think they can treat the problem themselves and then find the conditions that pests create is unsettling, to say the least. In worst-case scenarios, it can be downright dangerous if stinging insects like carpenter bees are involved. To avoid a late-summer influx, it's best to let the professionals remove carpenter bees before they multiply.