How to prepare your lawn for autumn
Abell Pest Control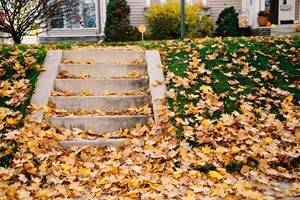 With autumn right around the corner, it's time to start thinking about how to prepare your lawn for the cold weather ahead. Doing so now could mean fewer pests come next spring, and you'll have a better shot at having the best looking lawn in the neighborhood. Make use of these final weeks of warm evenings, so you can sit back and relax when the winds get chilly. Here's how:
Fertilize and spray for weeds
Weeds and insects often go hand-in-hand. To keep your lawn looking great and possible prevent an infestation, you should take measures to knock out pesky perennial weeds. Better Homes and Gardens magazine reported that late summer and early autumn are ideal for fertilizing and spraying pesticides. As always, make sure you read the labels on these products carefully and heed all warnings. Chemical fertilizers can be just as dangerous as pesticides, so keep children and pets far away.
Plan for falling leaves
It's better to have a leaf cleanup plan in place now than to wait until your lawn is covered. You'll want to make sure that all of the leaves are picked up before the first snow, otherwise you could end up with a yard full of mold, which can attract beetles and other unwanted insects. When you notice those leaves beginning to change colors, head to your local home and garden store to stock up on leaf bags and check with your city to see how best to dispose of them. If you plan on mulching, check your setup now to make sure your equipment isn't cracked or damaged.
Aerate your lawn
If your lawn is looking a little unhealthy after the summer, you may want to consider aerating the soil. Popular Mechanics reported that this can help oxygen, water and nutrients to reach the grass's root system. It can also promote a habitat for beneficial insects such as earthworms. To aerate your lawn you can use a spike, or, for larger areas, you may want to rent a gas powered machine.
Plant seeds
Fall is a good time to plant grass seed because you won't have to worry about as many pesky bird pests eating up your hard work. Plus, when springtime comes, you'll have a lush and beautiful yard, free of bald patches.
If you follow these steps, you'll have a green, pest-free lawn when the weather warms up again next year.