How to get rid of pests in your AC unit
Abell Pest Control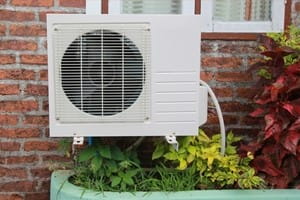 Now that it's starting to get warmer out, you've probably started to think about reinstalling your window air conditioning unit so you're prepared for when things get a little hotter. Before you take on this project however, you need to consider cleaning out your unit. It's been in storage for a while, so it's likely collected lots of dirt and debris that you wouldn't want to breathe in when you turn on. But dirt is only half the battle. While you were away, pests may have made the appliance their new home - not to mention that once you install a unit you could potentially open your home to new pests.
Once temperatures start to rise, homes become at risk for a variety of pests. Mosquitoes, bed bugs, ants, rats and mice - you name it, they're coming for you.
Here's what you need to know about home pest control and keeping your AC unit free of unwanted visitors:
Step 1: Turn off the unit and inspect the area outside.
You're going to have to get into the unit in a little bit, so make sure it is completely shut down before you dig into it. As you wait for the motor to come to a complete stop, take some time to inspect the area where you unit goes, explained U.S. News and World Report. If there are any bushes or branches that come close to the house where your AC resides, you'll want to trim those away as they make it easier for pests to hop onto your unit and into your home.
Step 2: Clean out the unit's front grill
Next, DoItYourself home improvement blog reported that you'll need to remove the grill from the external compressor so you can clean out any junk you find in there. Use a brush to really get in and around the coils to scrape away debris. Properly dispose of any accumulation in the trash. The source then suggested giving the machine casing a rinse with mild soap - however it should not get inside the unit or you risk damaging it.
Step 3. Install the unit
When you put the AC in the window, make sure the wings of the unit go right up against the perimeter of the window. Even a small gap is a wide enough space for many types of pests to get in - so make sure the unit is properly installed. If the machine does not fit properly, you can purchase sealer to fill those spaces in, explained U.S. News.
Step 4: Protect the outside of the unit
Because you have removed the danger of predators or other pests competing for a spot to live on the outside of your AC unit, you have also opened it up to an ideal spot for birds to nest on. You might think it would be neat to watch baby birds hatch right under your window, but they can actually bring in more insects and dirt that will make the air being filtered in unclean. All you have to do to prevent this is install a spike strip to keep them from even landing there.
If you have an internal AC unit you can still follow several of these steps. However, it may be beneficial to you to have your vents inspected as well. In this case, it might not be as easy for you to get to so you should consider a professional pest control service to do the dirty work for you. They will be able to get rid of pest attractions and identify any future problem areas as well.