Birds are often pests not picturesque
Abell Pest Control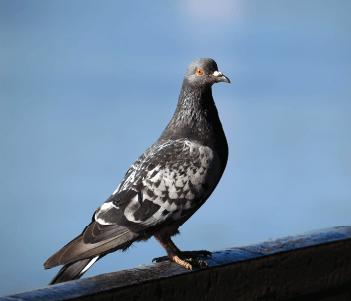 It's difficult to cross a city street without seeing a flock of pigeons near a park or any area where people gather for a snack. In suburban areas, sparrow nests are as likely to be built in roof gutters, drain pipes and vents as they are in treetops. Some people may consider these scenes to be picturesque, but they can also be troublesome to both businesses and homeowners.
Pigeons and other birds such as sparrows, seagulls and geese pose special concerns when it comes to pest control. They can't be destroyed indiscriminately like rodents or insects, but require treatment that will eliminate them from buildings and residential areas.
From merely being a nuisance to spreading disease and causing damage to buildings, birds that are common in urban and suburban areas often require pest management. Sometimes that entails removing eggs from nests, repelling birds in a humane way or installing structures that block them from nesting.
Such steps are ways to deal with a modern fact of life - some bird life has reached a level that requires pest control so that businesses and homes don't become inundated. Calling a company like Abell Pest Control provides these services before the bird population becomes unmanageable on your property.
Damage and health issues
Health concerns are heightened when birds gain access inside a building or by roosting nearby in commercial signs, air conditioning units or on a roof. Warehouses, retail buildings and parking garages are all places where nesting is common and bring birds into close contact with humans. Salmonella and fungal diseases are among the illnesses that can be spread when food and water becomes contaminated through parasites or droppings left by birds.
In addition, the uric acid in bird feces is highly corrosive to structures, cars and statues in public areas. Pigeons are the biggest culprits in urban areas, but wherever pest species of birds gather, their nests can become unsightly and cleanup of bird droppings is a never-ending battle.
To prevent pest birds from settling into commercial spaces, property owners should limit the shelters that are available for nesting and bird congregating. Filling cracks in structures, patching eaves and using screens to cover rafters and other parts of buildings that provide convenient cubbies are all ways to prevent access to spots that typically draw birds. Just as important, maintaining clean trash areas with secure receptacle covers will keep birds away just as they do other pests.