Watch out for these pests in your pantry
Abell Pest Control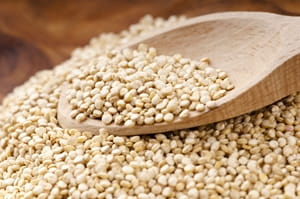 You know to watch out for insects around spilled food and any lingering items in your trash - but did you know that are pests that can create a problem in stored dry products? Restaurant and bakery owners who have dried products, such as flour, can be the perfect environment for different insects. Beetles are one of the top pests that can take refuge in dried food products. Read on to learn what you need to know about these stored product pests - and how to keep them away:
Confused Flour Beetle
This pest looks very similar to red flour beetles - so much so that they are often "confused" with them! According to Grains Canada, starchy foods like beans, peas, yeast and dried chocolate are excellent sources for these insects.
Not sure if confused flour beetles are taking over these dried foods? The website suggested that a pungent odor is a sign of beetles because they secrete a chemical when they are moved.
If a bakery or a processing plant is concerned with confused flour beetles, there are ways to get rid of them. According to Quality Assurance Magazine, small eggs can linger in flour, even after you sift out larger beetles. The publication recommended using a 30-mesh screen - and to make sure that flour doesn't linger long enough to create a breeding ground for beetles, it suggested that flour not sit for longer than 30 days.
Sawtoothed and merchant grain beetle
Any processing plant working with corn needs to be on the lookout for this pest. The longer corn sits, the more likely it is that merchant grain beetles will contaminate it as a food source.
If they do so, they could lower the overall quality of the corn kernels - and could even create the perfect environment for mold to grow!
It's difficult to get rid of grain beetles - and pest management professionals only use fumigation when all other options have been exhausted. As a result, the best way to handle these beetles is to prevent their appearing. That means maintaining strict cleanliness standards for grain bins - and making sure that any old grain is removed, so as not to contaminate a new batch.
Indian meal moth
Good Housekeeping recently reported that these bugs were found in a package of Cosmic Brownies - yikes! These pests sustain themselves on a range of grain-based foods. However, they may get into consumers homes via pet food, the article suggested. In order to keep them away, make sure dry foods are tightly sealed - and don't be afraid to do a deep clean! Wiping down counters with soap and water can help to make the environment unwelcome to Indian meal moths.
When dealing with dry packaged goods like flour, it can easy to think that pests will stay away. However, you need to take the proper preventative measures to keep beetles and moths far from these products. To learn more, reach out to Abell Pest Control today.