The many pest problems facing the hospitality industry
Abell Pest Control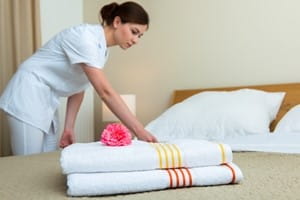 Hotels, motels, hostels and other organizations have to be vigilant when it comes to pest prevention. Not only could patrons be at risk from an unforeseen infestation, but negative reviews and complaints could quickly spell trouble even for a well-established business.
Unfortunately, hotels and similar institutions are uniquely vulnerable to pest problems, which certainly complicates control measures. Here's why the hospitality industry faces such a diverse array of issues related to pests.
The bedrooms
Perhaps the most pertinent pest issue facing hotels is the continued threat of bed bugs. Managing so many beds is tricky, and because patrons can unwittingly transfer these little insects through clothing and luggage, managers and cleaning staff must always keep an eye out for a bed bug outbreak. In fact, a recent survey conducted by the National Pest Management Association and the University of Kentucky recently found that hotels and similar establishments are among the most common places to find these pesky bugs. And to make matters worse, the U.S. Environmental Protection Agency reported that bed bug bites can cause serious skin irritation in some people.
Another especially difficult pest to mitigate is the cockroach. Visitors may leave behind all sorts of food scraps and waste, and this can be a welcome sign to eager insects. Unfortunately, roaches can enter a hotel through drains and pipes or even by hitching a ride on imported goods. That means that like bed bugs, property managers must be constantly on the lookout for signs of roaches.
The common spaces
Hotels offer more than just a place to hang your hat, and between conference rooms, recreation areas, pools and other amenities, there's a lot to attract visitors. Unfortunately, this also extends the number of places for an unwanted encounter with pests.
Everything from fruit flies and ants to mice and pigeons can be a disgusting or even dangerous problem. Many of the most common pests harbor infectious diseases, which can not only lead to a ruined reputation but could create real risk for patrons and staff.
The kitchen
Some hotels are well-recognized because of their food service, sometimes including a flagship restaurant. This too creates risk for pest problems. Any number of animals might try to visit the kitchen in an effort to earn a quick meal, and possibly creating an unsavory and unsafe situation. Even the cleanest kitchen can be infested through shipped goods, making control efforts difficult.
The outdoor areas
Many of the best hotels have patios, pool areas, beaches and other amenities that offer relaxation and fun. Managing these locations can be difficult, but a guest is unlikely to forget spotting a rat during a swim or having a decadent lunch interrupted by biting insects. At the same time, obvious prevention tools like traps and deterrents might be off-putting for visitors. Hotel managers must walk a difficult line between keeping patrons safe without making the effort too obvious and visible. This is especially tough because outdoor pests can come from just about anywhere.
Pest prevention
There are any number of ways pests can infiltrate a hotel, motel or other establishment. This is a problem, as management has any number of issues to deal with in a given day beyond pest prevention. For that reason, the hospitality industry must select pest control solutions that are easy and reliable.
This starts with prevention. Keeping things as clean as possible will limit the number of animals attracted to a property in the first place. But because pests can travel via patrons and supplies, constant vigilance is just important. Problems should be reported and addresses right away to keep the impact to a minimum. The best pest control specialists offer real-time, digital management. Site maps and instant documentation help identify and mitigate any issues as soon as possible.