Seasonal storage of clothes requires pest control measures
Abell Pest Control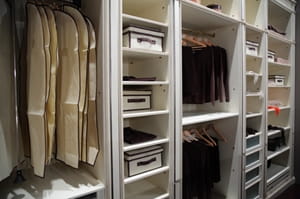 When you take out your winter clothes later this year, the most you'll want to do before wearing them again may be an airing out of woolens and other natural-fiber pieces. If you discover holes, worn areas or discolorations, you may not have done enough to protect your wearables from clothes moths.
There are thousands of moth species, but only two types - case-making and webbing - are considered clothes moths. The protective cases of case-making moths reflect the color of the fabric they attack, and the moths withdraw into the case if they're detected. Webbing moths create a series of feeding tubes in silk webs while they feed.
Also, adult moths aren't the ones damaging your stored clothes - it's the larvae that feed on animal fibers, wool and cashmere and leave holes as telltale signs.
Moth Removal
There are two common ways that clothes moths may have invaded home closets or dry cleaners' storage areas where many consumers store their furs and heavy clothing. They've either been introduced into closets by clothing pieces that were brought in and haven't been cleaned properly or the storage area has been harboring the pests in drawers and shelves that haven't been cleaned for a while.
There are also two pest management methods that people can use to keep clothes from falling victim to cloth-eating moths - cleaning before storage and containment in airtight bags or boxes. Cedar balls and other moth treatments aren't too effective, if at all, when these steps aren't taken.
Since clothes moths thrive in darkness, check the darkest corners of your storage areas as well as crevices and folds of clothing where they may be hiding. Hiring a pest removal service like Abell Pest Control to come in to clean and treat storage areas will eradicate the moths from their hideouts and advise you on ways to keep them away.
Extra precautions
Although moths aren't likely to nest in clothes that are worn frequently, some pieces that you wear infrequently and keep readily at hand in your closet may also be at risk. The same protocol applies - clean them regularly by washing in hot water or dry cleaning. Once clothes are clean, take everything out of the closet to vacuum the whole space and scrub down surfaces and drawers thoroughly.
Using airtight bags and tight-fitted containers for rarely used clothes that you keep in your closet is also recommended. If the adult pests can't get at them, they can't lay eggs that will do them harm.