3 ways to prevent bed bugs in your dorm room
Abell Pest Control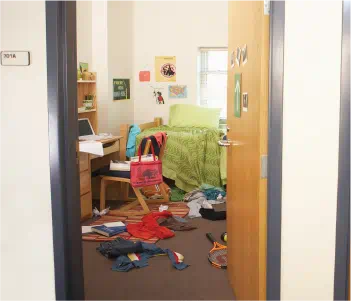 Dorm rooms are a space that you can make your own while you're at college. You can decorate them and make them as cozy as you'd like so that it reminds you of home while you're away. However, this cozy home away from home becomes less comforting when you notice bed bugs crawling around your floor or resting in your bed with you. Consider these tips to keep bed bugs out of your dorm room.
Store properly
Bed bugs hide in spots that they shouldn't be, and suitcases are no exception. Bed bugs love to travel, so hanging out in a suitcase or duffel bag is the ideal spot as they await their next destination. If you just returned from a trip and are worried about bed bugs, take precautions and store your bags on a shelf instead of under the bed or in your closet, The Huffington Post recommended. Even better, you can place the bags in a plastic storage container, which can kill and contain any pests you have. Whatever method you choose, make sure that you aren't placing the bags near any clothing or bedding, which can make for very comfortable homes for a bed bug.


Vacuum regularly
Bed bugs are resilient, but consistent vacuuming can help get rid of any bed bugs you have, Catseye stated. Always vacuum your floors, and if you're concerned that this pest has gotten comfortable in your home, vacuum your bed too. Bed bugs love to hide in any settled dust or hair that has accumulated in your room. Once you vacuum, be sure to dispose of the bag right away. Keeping the bugs in the vacuum may not kill them completely.


Reduce clutter
An organized room is a pest-free room. Bed bugs and other pests love to use clutter and messiness as an excuse to hide and make themselves at home. Keep your clothing folded in piles or hung in the closet, and throw out any open snacks or food items that might welcome in uninvited guests. You also may want to dust regularly and wipe down surfaces to prevent surfaces from dirtying over time. These actions can't fully prevent bed bugs from making their way into your room, but it sure will make them uncomfortable and much easier to spot.