Ways to avoid bed bugs on a cruise ship
Abell Pest Control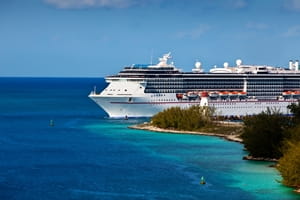 Many people have heard stories about bed bug infestations in motels and hotels. However, have you ever heard about a bed bug problem on a cruise ship? Believe it or not, bed bugs can climb aboard cruise ships too. Consider these tips to avoid beg bugs if you're taking a trip on the water.
How bedbugs end up in cruise ships
Bed bugs usually arrive on ships due to other passengers. Even if you've signed up for a luxury cruise, you could be at risk of getting bed bugs in your room, as this pest is happy to explore, Cruise Critic noted. Once they are on a ship, infestations are easy as the bed bugs have nowhere else to go, and neither do you. While hostels and hotels have a much greater likelihood of becoming infested with bed bugs, cruise ships can be under the right circumstances.
Pest control tips
Protect yourself and your belongings from bed bugs with these simple tips
Do your research: Before you book your cruise, do a little investigating, BedBug.com advised. Find out if there have been any complaints from old passengers who experienced bed bugs on a certain cruise line. Even if the problem was remedied, you may want to stay away from that company and choose another instead. If you're not sure where to look, try a site like Cruise-Bruise.com, which has customer reviews from cruise trips. Before you hop aboard, contact your cruise line. Ask a few questions, such as whether the ship encases their bedding. If they say no, that could be a problem. You should also ask if the cruise line has had pest issues in the past and how they dealt with them. Some ships will heat a room to 120 degrees to kill bed bugs off.


Pack smart: Even if your cruise line looks safe, you can never be too prepared. Pack clothes that can be washed on the ship in case you do get bed bugs, and use an anti-bed bug laundry bag for safe measure. You might also want to pack your clothing inside bags with luggage liners that are bed bug-proof. That way, this pest can't sneak into your stuff without you knowing.


Look around: After you arrive in your room, look around it. Though beg bugs are small, there are certain indicators of their presence. Pull back the bedding to inspect the sheets and take a look at the curtains. While you're investigating, place your bag on a tiled floor where bed bugs are less likely to go. If you find bed bugs, immediately let the cruise staff know.