The best pest control tips for landlords
Abell Pest Control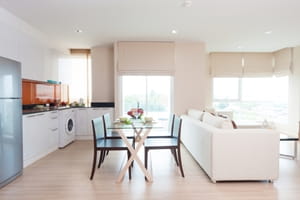 As a landlord, it's crucial to try and prevent any pests in your properties. Pests are sneaky and make bad tenants, often scaring people away and giving you a bad reputation. Consider these few simple tips to keep pests from creeping onto your property.
Inform your tenants
Landlords should always have some responsibility for their tenants. In some states, it's the landlord's responsibility to ensure that tenants are in a safe, pest-free living environment. If they aren't, the landlord is liable. Educating your tenants on proper pest control and prevention is one of the best ways to keep them away, Landlordology stated. Tell them about the importance of keeping a clean home, taking out the trash regularly, keeping windows and doors closed and recognizing an issue early on.
Check in often
Some tenants may not be the best housekeepers or have due diligence. Staying on top of your tenants is a good way to ensure that pest infestations are avoided. Send out monthly emails asking them to report any problems in the apartment or any suspicious noises, smells or droppings. If there's a problem, check it out for yourself. As long as your tenants reply to emails or phone calls, you can catch an issue early on and prevent it from occurring in the future.
Undergo yearly maintenance
Before the season shifts toward colder temperatures, landlords should visit each apartment for a brief checkup, the United States Environmental Protection Agency stated. Check the perimeter of the full building for any openings or cracks that pests could crawl through. Small openings in the foundation or near pipes provide easy access for mice. Tiny tears in windows or screen doors can let insects in. A dryer's exhaust pipe is an easy way for little animals to crawl in. Cap it properly to prevent pests. You can also use cement, steel wool and other products to seal up the holes before pests begin to look for a home.
Call a pest control company
If you learn from your tenants that you've got a pest control problem at one of your properties, don't wait. Call a pest management company right away to handle the issue. Many landlords may attempt to choose a do-it-yourself solution, but often end up disappointed when the pests return. Pest control companies are professionals and can help get rid of the problem the first time around.
Contemplate these suggestions to help keep pests out of your rental properties. Simple prevention tips can make a noticeable difference in pest control.