Early detection of bed bug presence is a hotel's best prevention
Abell Pest Control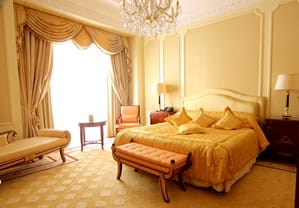 With travelers coming into hotels from all over and hundreds of staffers changing shifts day and night, there's no way that bed bugs can be entirely prevented in lodging establishments. Prevention then becomes early detection to make sure that an isolated room with the pests doesn't develop into something worse.
According to the Virginia Department of Agriculture and Consumer Services, accurate detection of bed bugs is only assured when all employees, from managers, to cooking staff, to event planners, are trained to properly identify the bugs by size, shape and color and telltale signs like droppings. Just as important is for them to know how to check for bed bugs in a hotel as they go through their regular duties.
Having a professional pest service like Abell Pest Control on call for inspections, bed bug treatment and follow-up programs is an important part of the protocol that must take place if any evidence surfaces that the pests could be present.
Treating an Infestation
The lengthy list of steps that hotels have to take in pest management include thorough removal and washing of all linens and removable fabrics in the suspected room, extensive vacuuming and sealing of cracks where bugs may enter the premises. Furniture, headboards, wall fixtures like artwork and mirrors and every surface should be inspected and cleaned.
Mattresses should be thoroughly scrubbed, then removed in plastic wrapping and placed in storage for one year before they may be used again. If they're disposed, they should be marked so that an unsuspecting stranger doesn't take the infected mattresses from a trash site. After professional treatment, the staff should reinspect the room for any signs that the bugs may remain.
Ongoing protocol
Ultimately, it falls to hotel management teams to create a response plan when guests discover bed bugs in their rooms. Responding quickly not only addresses the problem without delay, but puts guests at ease that everything is being done to find them safe lodgings elsewhere in the facility.
Because bed bugs can get through walls into other rooms, the units on both sides, below and above the infected room must be inspected as well. Studies have shown that units sharing a wall with a space where bed bugs have been found are likely to have the pests as much as 20 percent of the time, the Virginia agriculture department reported.
Many companies take advantage of free training by companies like Abell Pest Control so that staff members will learn to inspect bed bug-prone areas in rooms and can raise an alert if the pests are spotted.