Detailed training helps hotels control bed bug population
Abell Pest Control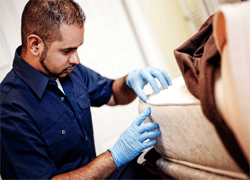 No place is immune from a bed bug infestation, but with travelers coming to New York City from every corner of the earth most days, city health officials have learned a thing or two about responding to a bed bug crisis.
That's why the New York City Department of Health and Mental Hygiene has a detailed plan for dealing with lodgings that experience bed bug emergencies. Not only does the city have to be concerned about the insects coming in with luggage and clothing of people from near and far, but of how hotels handle instances when guests find bugs in the rooms they're occupying.
The lengthy list of steps that hotels should take in pest management include thorough inspections, removal and washing of all linens and removable fabrics from the room, extensive vacuuming and sealing of cracks where bugs may enter the premises. Mattresses are thoroughly scrubbed, then removed in plastic wrapping and placed in storage for one year before they may be used again.
Licensed pest control services are hired to fumigate the rooms that are affected. Once all steps have been taken to eradicate the insects, staff reinspects the room for any signs that the bugs may remain.
Preventive steps
Preventing bed bugs from returning will only be as good as the training that hospitality workers receive to discover and report outbreaks as they happen. Hotel personnel have to be educated to recognize signs that bed bugs could be present, including the feces they leave behind, and be able to identify the insects by their size, shape and color.
Many companies take advantage of free training by companies like Abell Pest Control so that staff members will learn to inspect bed bug-prone areas in rooms and can raise an alert if any of these pests are spotted. A visual inspection for bed bugs should be done as part of the housekeeping staff's daily routine every time a room is cleaned and turned over to new guests.
Although housekeeping workers are the ones who spend the most time in hotel rooms, staff from other departments should receive the same training so rooms can be checked efficiently and acted upon immediately if any bugs are discovered.
Ultimately, it falls to hotel management teams to create a response plan when guests discover bed bugs in their rooms. Responding quickly not only addresses the problem without delay, but puts guests at ease that everything is being done to find them safe lodgings elsewhere in the facility.