Common pests in your attic
Abell Pest Control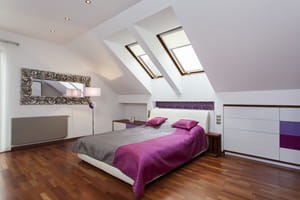 Attics are a great place for any storage you have. It's also a place you don't frequent often, unless you need something. That's why it's such a great spot for pests. It's quiet, insulated and may even have items to feed on. Consider these animals and pests that may be hiding in your attic.
Why pests like your attic
Many homeowners may be shocked to learn they have a pest management problem in their attic. However, its one of the most common places that creatures are discovered. Pests have a knack for wiggling through small crevices and openings in attics that often go undiscovered by homeowners for years. Animals may also come through heating vents or other openings to the outdoors. Once inside, there's plenty of insulation that's an ideal nesting spot for any furry animal. If you have stored clothing, it's a carpenter beetle's or clothing moth's dream. Homeowners may be shocked when they revisit their attic and discover what's become of it.
Common attic pests
Keep your attic pest-free by being aware of these creatures.
Rodents:

Rats and mice

love attics. They aren't afraid of humankind. Most often, rodents prefer it, Red Beacon noted. They know that they are vulnerable in the wild, where hawks and other birds can prey on them. They'd much prefer a human shelter that is warm and inviting, with food to nibble on. Though there are many different places in a home that a

rodent

may explore, the attic is the most common. They can climb up a gutter or roof to access your attic. They often are attracted to the spot by the heat that escapes the heating vent, which they may crawl right through. They also may wiggle through another opening in the attic if that crawl space is too hot. Once inside, they're happy to nestle into insulation to have their babies.

Squirrels: As a relative of the rodent, it isn't surprising that squirrels are also on this list. Squirrels perform similar tactics to get into your attic. They're natural acrobats and may jump from trees to get to your roof, Mother Nature Network stated. Often, squirrels will come into attics when there is an overpopulation problem. This happens during mild winters when there is a surplus of acorns to feed on. Squirrels may be more bold than normal and try and gnaw their way through wires in your walls to get into your home. You may not even know you have an issue until your lights go out.
Raccoons:Like the other two,

raccoons

are cunning creatures. They're very intelligent and can often outsmart many tactics that homeowners try. They also have incredibly sharp claws, which they use to tear through vents and other mesh that may connect to the outdoors. However, raccoons are dangerous creatures. If you have a raccoon problem, call a pest management company right away.