4 surprising facts about bed bugs
Abell Pest Control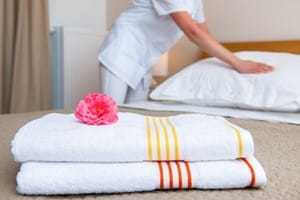 In 2011, the University of Kentucky and the National Pest Management Association teamed up to conduct the "Bugs Without Borders Survey," a telling examination with results showing that bed bug infestations have increased greatly in recent years. In fact, 99 percent of pest management professionals in North America surveyed reported a call for bed beg control in the past year. That rate was up drastically from only 11 percent of respondents who encountered a bed bug infestation ten years prior.
"The increase in bed bug encounters is likely due to a combination of factors, but one thing is clear - this pest shows no signs of retreating," noted Missy Henriksen, vice president of public affairs for NPMA. "Of most concern are the places where pest professionals are encountering bed bugs, such as, schools, hospitals, and hotels/motels. In many cases the numbers of professionals who have reported treating certain types of businesses and commercial facilities has seen double digit growth."
Here are four other surprising facts about bed bugs you may not have known.
Bed bugs don't discriminate
Bed bugs are commonly associated with hotels, hostels and dirty apartments, but the truth is they are found everywhere. According to the study, infestations of bed bugs have become much more common in public places in recent years. College dorms

, movie theaters, transportation services,

hospitals

, schools, family homes and

offices

have all experienced cases of bed bug infestations.

Bed bugs are survivors
Believe it or not, bed bugs can survive at almost any temperature, from freezing to well over 100 degrees, according to Cornell University. Bed bugs are programmed to survive human conditions and extreme temperatures. They can also survive for up to several months at a time without a single meal, according to the university source. This is how they survive in homes, suitcases, buses and beds for such extended periods of time.
Bed bugs are found in every region
Contrary to popular belief, bed bugs are not just found in cities and rural countries. According to the NPMA, they have been found in all North America and are increasing in their likelihood of invading family homes.
Bed bugs are wise
It may sound silly, but bed bugs infest methodically in a way that they know will allow them to survive. According to the United States Environmental Protection Agency, bed bugs typically only come out at night. They know to stay hidden from view during the day, avoiding being seen by humans. Feeding only takes a few moments, according to the source and if they are really hungry they will come out during the daylight if the opportunity presents itself. However, their feeding pattern is usually predictable.