Spring cleaning and pest prevention
Abell Pest Control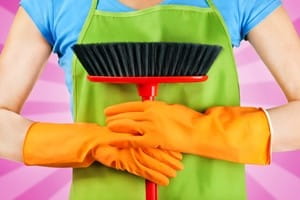 The snow is melting, the birds are chirping and the flowers are starting to peak through thawing ground. Yes, spring is finally right around the corner, which means it's the perfect time to break out the mops and rubber gloves for some thorough spring cleaning. While you're at it, you can prep your home to be ready for unwanted spring pests. Follow these tips for home pest control.
The kitchen and pantry
Since the kitchen often requires the most in-depth cleaning, it's the first stop on most people's spring cleaning list. This is good news for your pantry, which often sees a rise in Indian meal moths during the spring, according to the University of Minnesota Extension. These pests are bad news for your stored dry goods as they feed on debris from grains and broken kernels. After the winter season, the temperature of the air - and the grains themselves - rise, making them more desirable for the moths. Be sure to do a thorough sweep and clean of your pantry while spring cleaning. Vacuum and wipe every corner and crevice to ensure there isn't a crumb left in sight. Store all dry food items in sealed containers.
Storage and bedroom closets
Ant control should become a primary concern come springtime and a little bit of proper cleaning will ensure you stay on top of them. According to the University of California Agriculture & Natural Resources, the end of winter and beginning of spring is when the ant populations really start to expand. While deep-cleaning your storage areas, eliminate any source of moisture, mold or water. Household ants will enter your home in search of water and food.
Living areas
The rise in temperatures and beautiful weather also causes a spike in swarms of stinging pests such as bees and wasps, according to the Illinois Department of Public Health. While cleaning your living areas this spring, it's crucial that you check all doors, windows, screens and other openings in your home. While searching for a new place to live, swarms of bees are known to rest on trees and houses while they navigate, according to the IDPH. This means that any tears in your screens or holes in your doors are a welcome invitation for these pests. Sealing all cracks, replacing all broken screens and covering all holes now will prevent bees from entering your home later this spring.