Restaurant owners need to be diligent in battling ants
Abell Pest Control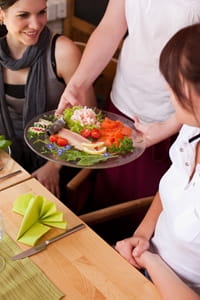 One of the joys of summer is being able to eat al fresco, enjoying a great meal at a favorite restaurant while the sun sets in the background. On a balmy night - or sunny lunchtime - it can be one of the most relaxing ways to socialize with friends.
The last thing you and the restaurant want is a spoiler to such an outing, but that may come in the form of summertime insects. For you, it may mean losing your appetite and a ruined meal. For the restaurant, it means the possibility of word-of-mouth criticism that this eating establishment is a place to avoid.
There are plenty of pests that commercial pest control outfits like Abell Pest Control are called to remove from restaurants all the time. Food is one of the most universal draws for bugs, particularly in warm, humid weather when many insects are likely to appear. Ants may be among the smallest, but they're also some of the most persistent pests that create unsanitary conditions that no restaurant wants to be associated with.
Until the pest control experts appear on the scene, restaurant owners can fight small populations of ants with some success if they believe in old-time home remedies. Sprinkling cinnamon, pepper or vinegar is said to combat ant colonies effectively, but they're unlikely to do as well as the professionals.
Preventative steps
A better approach is to stop pests from infiltrating a restaurant by taking preventive steps so a full-fledged infestation doesn't occur. Ants can get through any cracks or openings leading to food preparation and serving areas.
Patching those holes and caulking edges can limit the ants' access to an eatery. Restaurant owners need to follow a plan diligently each year to maintain outdoor repairs that will keep insects out of their business. Wooden parts are very vulnerable to insects if they're in contact with soil rather than a material like concrete, so repairs should be undertaken to remedy such issues. Untreated wood should also be sealed or painted.
Since insects are routinely drawn to garbage, the trash disposal operation at a restaurant has to be maintained meticulously by staff members. Any garbage, however small, that's carelessly disposed opens the restaurant to health violations and continued presence by pests.
Keeping exterior doors closed at all times, particularly those that lead to food preparation and serving areas, has to be observed continuously. In warm weather, that may mean keeping screen doors in good repair and seals around the doors in sturdy condition.