Restaurants use new strategies for spring pests
Abell Pest Control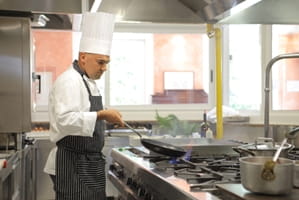 Keeping restaurants clean in the winter season is tough enough, but spring brings a fresh flood of pests. Traveling by ground or air, whether they're mice or flies, these unwelcome guests can spell disaster for a restaurant's reputation. Bad news travels fast, and the mere appearance of a visible pest can cause diners to warn their friends or post poor reviews online.
Fortunately, many experts say that beating restaurant pests isn't a lost cause. They admit that it's almost impossible to keep every insect and rodent out of a building packed with tasty food. And the truth is that most of these tiny visitors don't do much harm.
Inspectors look for large infestations
Health inspectors looking closely at restaurants and bars often find signs of mice and flies in the basement, on the kitchen floor or in a food storage closet. Their usual reaction is to issue a simple warning, because if the problem is quickly cleaned up, there is usually no harm done.
"You have a higher chance of getting sick from food employees not washing their hands and handling raw meat before making your salad than having mice at an establishment. It's all about how critical it is," Milwaukee, Wis., restaurant inspection supervisor Claire Evers told the Journal Sentinel. "Fruit flies are very gross, but the chances of you getting sick from a fruit fly on your glass, it's a very slim chance."
The serious health problems occur when inspectors see signs of pests directly in the food or on the plates. Hygiene infractions of that order will usually trigger an instant violation ticket and a directive to shut down the establishment until it's clean.
Prevention is easier than eviction
Pest management experts say this is when the hard work really begins. It's far easier to keep pests out of the restaurant in the first place through vigorous cleaning and smart food storage than to extirpate a tough infestation. Many common insecticides aren't recommended for food service facilities because of the danger that they may also contaminate human plates, utensils or cooking equipment. Even less virulent commercial pest control options require that a proprietor keep all customers and staff out of the building until the pest spray has dried and been ventilated.
Once a restaurant has opened its doors again, managers may have to change to new cleaning techniques. Some experts say that the high-pressure water streams commonly used to spray down surfaces in modern kitchens can harm the infrastructure in the long run by breaking up tile grout, degrading wooden baseboards and leaving spots of moisture behind for thirsty pests to drink. They say it's better to use a light touch for deep cleaning.