Store vintage fabrics with care to avoid pest damage
Abell Pest Control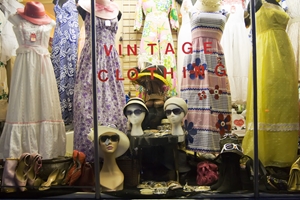 When people put away collectibles and family heirlooms for safe keeping, they expect just that - safe keeping. Allowing such treasures to be stored away uninspected for a long time, however, may damage the goods in ways they may not have expected.
Certain pests are drawn to long-stored belongings like vintage clothing. People have always been warned that moths can damage fabrics - particularly natural fibers like wool and silk - if they don't take precautions to store them properly. Tiny holes and worn spots are indications that moths or other pests have eaten or burrowed into the fibers and sometimes leave telltale insect casings behind.
Other insects that may damage stored fabrics are silverfish, which are drawn to book bindings, textiles or cardboard boxes that have been stored for long periods, particularly in dark and humid areas. They feed on starchy substances such as glue or paper, but they could turn up in cupboards during periods of high humidity.
Experts warn owners of vintage fabrics to check them every three to six months to make sure pests haven't caused damage. If there are indications of damage or evidence that pests have been in the storage area, pest control services like Abell Pest Control should be called to remedy the situation. They'll do a thorough analysis, conduct the pest removal and make recommendations to avoid similar problems in the future.
Correct storage
Storing vintage clothing and fabrics properly is a big part of how well they'll last over time. Insects are drawn to soiled clothes, so cleaning or airing out vintage pieces before they're stored will help deter pests. However, while dry cleaning will kill larvae, it may damage some fibers. Washing should be avoided. Fabrics like silks, fine wools or crepes can shrink and warp in water, even with hand washing. Dyes can also bleed onto other areas of the garment.
Because light can damage older fabrics, your vintage pieces should be placed in dark spaces as long as they're dry. Contact with humidity and heat may be more damaging than light and more likely to draw pests.
If the pieces are hung in storage, the hangers should be padded with acid-free tissue or unbleached muslin to keep the fabric from touching wood or wire. Avoid cedar hangers because acids from wood or cedar oil may seep into the garment. Hanging vintage pieces risks them becoming misshapen, so storing them flat, unfolded and wrapped in acid-free paper is preferred.