Stop pests without chemicals in your organic facility
Abell Pest Control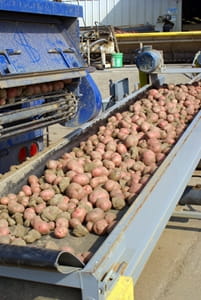 Organic food producers may have made the decision not to use chemicals and pesticides in the manufacturing and growing of their food, but that doesn't mean that bugs, spiders and rodents aren't going to still try to get at the food. Some specialty commercial pest management companies work with organic facilities to prevent and treat pest infestations without sacrificing the integrity of the operations.
Organic control and integrated pest management give pest control services a two-pronged approach to dealing with pests logically and environmentally safely. IPM programs help organic facilities learn and identify the pests that are the most harmful and which bugs are innocuous. From there, IPM involves preventing infestation and then using smart pest control substances as needed should a problem arise.
Pest management services use tools like inspections, monitoring and education to help reduce the likelihood of a damaging infestation. Although these are effective methods, organic growers and producers can take additional steps to help prevent pests from contaminating their food.
Outdoor farms and gardens
By excluding chemicals from their pest control armory, many organic farms have gotten creative to prevent pests from contaminating and devouring their crops. Many organic farmers rely on trap crops and good sanitation to distract and prevent pests from eating the cash crops. Sometimes farmers use parasitic or predatory species to prevent pest insects or birds from damaging their crops.
Organic food processing facilities
Once the food is out of the ground, off the vine or picked from the tree, it isn't out of danger yet. The places where organic food is processed, packed and shipped are also targets for pests. One of the most common pests in these areas are flies. They can grow fast, repopulate quickly and get through measures that prevent birds and rodents.
Doors are a powerful tool when it comes to excluding flies from food preparation areas. The more doors or barriers that are between a food area and the outdoors, the less likely it is that flies will get to the food. Specialty zappers are also a powerful tool. Pest management firms use specific zappers that catch the flies to avoid contaminating the food below as well.
Keeping garbage far from the food and patching any holes, cracks or openings in the structure are also important measures to take to prevent various pests from infesting a food processing establishment.