Top ways to keep bugs off your boat
Abell Pest Control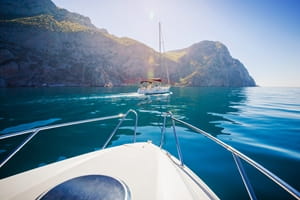 Warm weather gives the opportunity for taking enjoyable rides on your boat. However, this opportunity might be ruined when you notice all sorts of bugs resting on your boat, or worse, dead. While small bugs aren't as concerning as the presence of a larger pest, they do pose a problem. Certain ones, such as fruit flies, might fly around any food you have or your underground kitchen. Other types of flies might buzz around your head while you fish or sit among friends. No one wants to deal with this. Consider these tips to keep bugs off your boat.
Keep a clean boat
This can't be reiterated enough. While it seems like it goes without saying, cleanliness really can keep any type of bug away, from the hungry spider to the annoying fruit fly. If you go out for a boat ride, most people may bring food along with them, or catch some fish in their adventure. These types of activities may be enjoyable in the moment, but they leave crumbs and residue behind. The same goes for bringing certain beverages such as beer on a boat. If something gets spilled, immediately clean it up, Sally in the Galley advised. Ask any guests to pick up after themselves when they're done eating and drinking. Lastly, hose down the boat to get off any other substances.
Avoid cardboard
Many boat owners may think its a good idea to store certain items in cardboard boxes aboard the boat, The Yachting Gourmet noted. However, this may not be the best plan. Cardboard is the perfect type of nest for plenty of different types of pests, from cockroaches to ants. Other bugs, such as silverfish, will actually feed on the cardboard, which most likely is damp from being exposed to moist air. Instead, store any items you need in a plastic container, and bring beers in a cooler or make sure that the cardboard holder is removed later on.
Be mindful of food
Some boat owners may forget what kinds of food they have aboard. It's important to keep only dry foods on deck such as rice and spaghetti. However, these types of stored food can attract their own kinds of pests. Make sure to completely use a package of food before opening a new one. If you have half-used food items lying around, you might find some bugs investigating it after awhile.