Tips for cleaning floors to keep bugs away
Abell Pest Control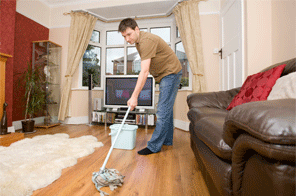 The floors can be some of the dirtiest features of a house. As such, they're some of the most important areas to maintain in order to keep up with home pest control.
A home's floor is the catch-all for everything in the residence, from dust, to food crumbs, to outdoor detritus. It's also where the furniture is placed, which can make certain spaces more difficult to clean than others that are free of chairs and beds. However, it's critical to clean the floors in their entirety to ensure the best pest management.
Protect Your Home
Frequent and thorough cleaning of the floors is your best defense against bugs. This will give them fewer opportunities to nest or spread. Pay special attention to hard-to-reach places such as corners and underneath furniture. Move furniture if brooms or mops can't fit underneath. Alternatively, for smaller spaces beneath more permanent fixtures such as refrigerators, look into vacuum attachments that will allow you to maintain these areas.
If you sweep your floors, it's wise to get the dust you gather up out of the home. Bugs come in all sizes and you don't want to keep the pests in your home for longer than necessary. If you have any plastic bags from shopping, toss the dust into these smaller bags, tie them tightly and put them in the garbage outside your home. Vacuum bags may not have to be emptied as often, but should be if you're aware of a bug problem.
Pay Close Attention
As you're cleaning, it may be tempting to do so absentmindedly. However, if there's a bug problem and you're not keeping a close eye on what you're cleaning up, you can miss red flags that would indicate a pest problem. Though you can take a closer look at the debris after cleaning all the floors, you may not be able to pinpoint where pests came from. Monitoring the dust as you sweep and looking for spots that look like they could be bugs will give you a better idea of your home's condition.
If you spot any trouble areas, don't hesitate to reach out to pest specialists, such as the experts from Abell Pest Control. These professionals can pinpoint the source of the problem and find a viable solution that'll keep your home bug-free.