How to prevent brown recluse spiders in your apartment
Abell Pest Control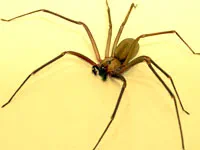 Brown recluse spiders can be a scary pest to encounter. Though they're shy by nature, they can inflict significant pain on anyone who crosses their path. Renters and owners alike will become frightened upon sighting this creature, which has a tendency to make its way into homes too often. Consider these tips to keep brown recluse spiders away from your home.
Why these spiders invade apartments
Brown recluse spiders have a habit of creeping into areas of homes and apartments through cardboard boxes that have recently been outside or in a storage unit, Texas A&M University noted. From these boxes, they will come inside apartments and breed. These pests are shy creatures, and often don't try to socialize with humans or other animals, BrownRecluseSpider.org stated. They seek shelter in quiet places, such as closets, garages, attics, basements and other dark areas. They're especially fond of areas that are cluttered, which makes their encounters with humans all the more surprising. Normally, they come out at night to look for their food, unless disturbed. They don't prefer to build webs, which is why many tenants may not suspect they're living with a brown recluse spider until they interact.
Pest control tips
Consider these tips to keep brown recluse spiders out of your house.
Keep it clean: One of the easiest ways to prevent brown recluse spiders from getting comfortable in your apartment is to prevent giving them a hiding spot. Since brown recluse spiders love to hide behind boxes and underneath random clutter, remove it. Not only will you be spider-free, you'll also have a cleaner place.


Check your storage spots: Most people have an area where they store unused items, such as an attic, basement or simply a closet. If you have boxes in these areas, make sure they are fully sealed. These spiders have a habit of creeping through box cracks to make nests.


Call your landlord: Contact your landlord and inform him or her of the problem. If the spiders have been there for awhile, they've most likely bred. An infestation of these spiders can be terrifying. Make sure to call a pest control company that can professionally handle the problem, as these spiders are incredibly dangerous and possibly life-threatening.


Get rid of unused items: If you seem to have a lot of unused products, ranging from old shoes and clothes that you haven't worn in five years to an old stack of books you've read, it may be time to give them away. Having these products only creates clutter for you and gives spiders an easy hiding spot.