How to keep spiders out of your shed
Abell Pest Control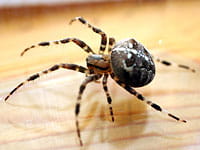 Spiders can be a pesky nuisance, especially in a garden shed. No gardener or homeowner wants to be frightened by a spider creeping down from the ceiling or crawling up his or her arm while grabbing a wheelbarrow or bucket. If you're not a fan of these situations, these creepy crawlers can make you stop your outdoor project and flee for higher ground. Consider these tips to keep spiders away from your shed.
Why spiders often land in sheds
Though a shed seems to be an uncommon spot for a spider to hang out, it's not. Most garden sheds are conveniently located in a more rural area of the house, where spiders can easily creep in from trees, the woods and other nearby locales. They also are dark, quiet and barely used, which is any spider's paradise, the San Francisco Chronicle noted. Add in a little moisture and an infestation can happen pretty quickly. No homeowner wants to walk through cobwebs or watch a spider crawl a little too close for comfort near them every time he or she enters the shed.
Pest Control tips
Keep these suggestions in mind to prevent you from closing your eyes the next time you walk into the garden shed.
Make yourself a frequent visitor: As Shed Spot mentioned, spiders don't like company. Most aren't social creatures - they even travel alone a lot of the time. So they aren't too happy if they're disturbed. If these interruptions are frequent, whether by pet or by homeowner, they're bound to flee. Take a regular trip to your shed, regardless of the time of year, to keep it spider-free.


Keep it pest-free: Spiders' favorite snacks are other insects. So, if you've got more than the average spider crawling around, you're bound to welcome this pest in. Regularly survey your shed to make sure no creatures are inhabiting it. If they are, or you feel you have a different pest problem, contact a pest management company right away.


Leave the door closed: Always make sure the door to the shed is fully closed. If you leave it open, you're welcoming your shed to spiders and every other type of pests, including rats, and even larger animals such as raccoons. Keep your shed safe and make sure the door is closed tight.