How to keep pests off a wooden playground
Abell Pest Control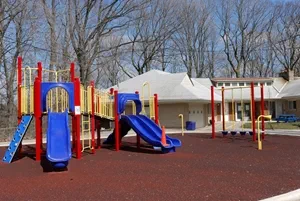 Playgrounds are meant to be places for children to have fun and tire themselves out. It's important to keep these places as safe as possible, and invading pests aren't helping. Insects such as spiders and wasps can quickly turn a fun day into a disastrous one. Consider these tips to keep pests off your wooden playground.
Why pests like playgrounds
Playgrounds may seem like an uncommon space for pests to come crawling. However, on occasion they do. The presence of pests in a playground can put children at risk of being bitten, which could put their health in danger. The most common pests found on playgrounds are wasps, bees and spiders. While spiders may hide in the mulch around a playground or build webs in the crevices, wasps and bees like to build their nests in the corners of the playground. They initially might be attracted to this space because of sweet scents from spilled juices and food. They also may like the playground because of its location. Regardless of what attracts these pests, once they've arrived, they are there to stay.
Pest control tips
Promote cleanliness:
One of the first ways to prevent pests from crawling near your playground is to keep it clean. Ask youngsters to pick up and throw out any trash they see on the playground that can cause a frenzy of insects. You also may want to place the playground away from your garbage, Lifehacker suggested. Keeping the two close to each other can encourage pests to make their homes in the playground.
Power wash:
You could power wash occasionally. Using a hose with a powerful sprayer can help wash any sweet scents off of the wooden structure, Do It Yourself stated. Power washing can also remove any wasp nests or cobwebs that have begun to develop around the structure.
Constantly check: Don't wait for your child to alert you of pests on the playground. Regularly check the entire structure yourself to make sure there are no ant hills, spider webs, or wasp or bee nests that can possibly become bigger or develop into a larger problem. If you discover that you have a significant nest or a considerable set of nests in your backyard, don't try to handle the problem yourself. Instead contact pest management professionals to handle the problem and take down the nest for you.