Do not let bed bugs hitch a ride home with you from a trip
Abell Pest Control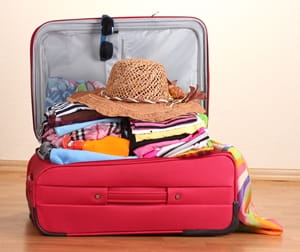 Some seasoned travelers take their suitcases into the bathroom and place them in the bathtub as soon as they enter their hotel room. This may seem like odd behavior, but given the many reports of bed bugs in hotels, it's actually a savvy safeguard against bringing an infestation of the pests home with you.
Bed bugs are well-known for their traveling. Many people have found they've created an infestation of the insects in their homes because they brought bed bugs home with them from a trip. If your suitcases and clothing is in contact with the bugs that have infested a hotel room, there's a good chance you'll find they've come home with you.
If you have any suspicion that your guest quarters may have bed bugs, call hotel management immediately and request a move to a new room, but not a room next to the one you'll be vacating.
Hotels frequently rely on pest services like Abell Pest Control to inspect and treat hotel premises for bed bugs, but they need to act on it right away because an infestation can travel quickly. Reporting suspected problems - and certainly actual sightings of bugs - will help the hotel improve its pest management.
From hotel to home
To give your room a quick check, leave your bags on the floor away from the bed. Raise the bed sheet and mattress pad to see if there are bugs - they're visible with the naked eye - or tiny dots of excrement in bedding or mattress seams. Use a flashlight to inspect crevices of the luggage rack, which could easily have attracted bed bugs from previous guests' luggage.
Don't stop at the obvious places because these bugs may also hide behind headboards that are attached to walls, around framed artwork, and on furniture that's near the bed. Upholstered chairs are especially vulnerable, but the bugs may also be found in desk or nightstand drawers.
To reduce your chance of bringing home bed bugs, inspect your luggage before leaving. Bring a plastic bag to keep your dirty clothes in since bugs are often attracted to human scents left on used clothing. Once you're home, launder clothes used on the trip immediately, vacuum your luggage and throw out the vacuum cleaner bag. Wipe down your shoes with a rag and hot water.
If there are bed bugs that make their way home with you, store your luggage in plastic bags to contain the insects and prevent them from infiltrating your home.