Make outdoor repairs as part of home pest control to deter rats
Abell Pest Control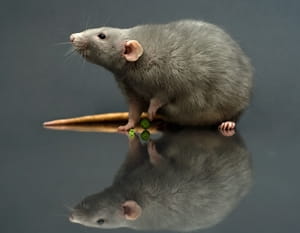 During warm months, coming upon rats on your patio can be every bit as unsettling as finding one in your dining room or basement in the wintertime. Whether they're inside or outdoors, they carry bacteria and contaminate both the food and surfaces that are in their path.
The key to keeping rats as far as possible from your property is to clear out areas that may harbor them, according to Pest World. Plug up openings they may squeeze through to get into your house. Rodents are resourceful creatures, and where there's a small opening, they'll find a way to move indoors.
Outdoor Repairs
Don't give rats a chance to hide near your home and gradually make their way into the house. In the course of getting your yard and patio in shape for summer, take time to examine moist, dark areas under porches, at window wells and any outdoor spot where moisture may gather.
If there's loose mortar on your foundation or weather stripping that's hanging loose around windows and doors, replace it with fresh materials. Install door sweeps on any exterior door and fix damaged window screens. All chimney vents and openings should have a screen installed over them.
A leaking pipe or clogged drain is a good breeding place for rats. They'll nest between walls and floors and wherever they can get water and food from rubbish. If you find any cracks or holes on the outside of your dwelling - commonly around pipes and other areas where the utilities enter the house - block these openings with steel wool and caulk over it.
Keep your shrubbery, trees and other greenery trimmed back from the house. If you haven't used up all your firewood this winter and plan to store it on your property, place the unused wood at least 20 feet away from your home so rats don't have a place to hide.
Storage areas
Indoors as well as outside, don't allow moist conditions to develop in basements, attics and crawl spaces. Keep those areas dry and well-ventilated so rodents won't be drawn to them.
If you store garbage in your basement before trash day, keep it in covered cans. If you don't use containers on collection days, place trash in rodent-resistant bags at curbside. Don't allow trash to accumulate week to week.
When your own efforts aren't enough, call on pest management specialists like those at Abell Pest Control to give you advice on pest control.