Do not let bed bugs get a room at your hotel
Abell Pest Control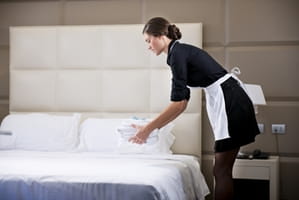 Throughout North America, bed bugs are becoming a larger problem for hotels and motels. Because of the proximity of rooms, if one guest comes in carrying the pests, bed bugs can spread throughout the entire establishment - regardless of how sanitary and proper the cleaning practices are.
Often, the best solution to deal with bed bugs in a hotel or other hospitality establishment is to call in a professional pest management team to quickly and effectively eliminate the issue, otherwise the problem could continue and hurt the hotel's image. Here's some important information that every hotel owner, manager and staff member should know, so that if you ever do have a problem, you can identify it in a timely manner.
Look for the problem
One of the best lines of defense against bed bugs for a hotel is to train your cleaning and maintenance staff to recognize the warning signs of an infestation. The very small, wingless brown bugs are most commonly found around the edges of the bed and box spring. Between 1.5 and 5.5 millimeters in length, staff should keep an eye out for the bugs as well as smudges on the sheets, which could come from guests sleeping on the pests.
Know the risks
Bed bugs can infest a bed or box spring then wait until your guests are asleep to come out and start biting. As a hotel, your first concern is your customers' comfort. Bed bugs don't just cause physical discomfort in the way of small, itchy bites, but they can also disrupt peace of mind and make people feel as though they're under attack. This can disrupt a customer's sleep and loyalty to your establishment.
A secondary issue with bed bugs is that in recent years they have led to lawsuits against hotels and other hospitality establishments. Entomology professor Dini Miller, Ph.D., from Virginia Tech, advised hotels to develop a foolproof routine for staff in case they need to respond to a guest's complaint of bed bugs. Documentation, quick action and a coordinated, preplanned defense is the best way to address a guest's bed bug concern and avoid litigation. It's also important to get to the guests in rooms surrounding the infested room to prevent further discomfort.
When a problem is identified, either by a guest or the staff, it's important to work with your commercial pest management team to eliminate the pests and do what you can to prevent future infestations.