A clean grill will help keep your barbecue area pest-free
Abell Pest Control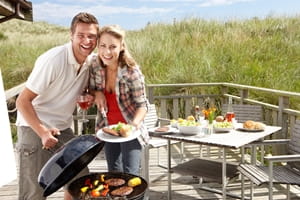 One of the things that people look forward to most when they attend a barbecue is meat cooked right off the grill and doused with a delectable, sweet barbecue sauce. Unfortunately, bugs look for the same thing when they're intruding on your outdoor gatherings.
There are insects and certainly rodents who would be happy to carry off a well-sauced piece of meat from the patio grill. But they're also satisfied if you leave dropped food and spills for them to lap up on your deck or patio. Protein and sugar are among the favorite foods of many pests, including some you might not expect. While they're best known for burrowing into wood, for instance, carpenter ants are also partial to sweet foods and meat.
Whenever you're grilling outdoors, keeping food covered is paramount if you don't want to draw pests to your outdoor living space. If they infiltrate that area, which is usually close if not attached to the house, they could have easy access to your stored food indoors.
If you've done what you can to rid your barbecue area and there are still wasps, mosquitoes, ants - the most common pests surrounding outdoor food areas - as well as any other pests, it's a good idea to call a pest control service like Abell Pest Control. They can treat the problem you have and recommend ways to prevent repeat infestations.
Cleaning the grill
Keeping the grill clean is a mandatory part of good pest management. Even when it's covered, any drips from the grill surface will draw pests to the appliance and into your living space.
Having the lid closed and a plastic cover over the grill when it isn't being used will provide extra protection against a pest infestation. Covering the grill is important whether or not it's in use because any bugs that wander onto it may carry bacteria and diseases onto the surface.
However, if the grill itself isn't clean, these precautions will have little effect. It should be scrubbed with a sturdy brush after every grilling, including the burners. They can be detached and brushed thoroughly.
The searing plates, grills, base and sides of the grill as well as the outside can be washed with hot, soapy water to remove grease and food particles. A spatula is needed to scrape all the grease from the inside of the base to the drip pan, which should be removed and washed. Grilling surfaces can be re-seasoned with a little olive oil.