Prevent earwig infestations with daily pest management
Abell Pest Control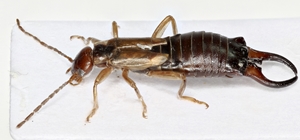 If you're a garden aficionado, you're familiar with pest management. You've likely encountered earwigs at some point while tending to your plants.
As the warm weather returns, you're probably getting ready to spend more hours in the yard. According to the Washington State University Extension, earwigs can cause extensive damage to gardens. Therefore, implementing home pest control activities in your daily routine will help protect your plants from falling victim to these insects.
Understanding earwigs
Earwigs were named because they were believed to crawl into people's ears at night, according to Pest World. However, this is only folklore and holds no truth. In fact, earwigs don't present any threats to human health.
These pests are easily identified by their unique shape. These long, narrow bugs sport clippers on their backside, which can be alarming to individuals who have never encountered these creatures. These bugs are active at night and hide during the day. They're typically found under piles of detritus or inside holes of tree trunks. They tend to live in large numbers, underscoring the importance of pest management in daily activities.
Living with earwigs
The University of Florida Extension stated that earwigs can appear for a variety of reasons, some of which may not be readily treatable, such as dietary needs. Earwigs eat other bugs, which may require more in-depth treatment. They're also happy to eat food scraps, so keeping the yard clear of organic food waste can help decrease the likelihood of these bugs appearing in large numbers.
Furthermore, the WSU Extension pointed out that earwigs can be easily carried from the yard into the home. Sharing this information with other household residents can lead to better awareness, especially when entering the house after a trip to the garden. This is extra important if they've handled earwig-prone items including cut flowers, laundry baskets and cushions.
Treating earwigs
If there's a large infestation of earwigs, your garden may suffer damage. Leaves may sport holes, fruits may be tunneled through and ornamental plants may also be affected. If you note any of these signs in your garden or suspect earwigs, speak with pest control specialists such as those from Abell. There are many reasons why earwigs may be present on your property. Therefore, administering your own treatment may be ineffective. Abell Pest Control employees will be able to identify the source of the problem and resolve it for you.