Good yard work will help prevent a flea infestation
Abell Pest Control
Don't blame your pets if your house gets fleas this summer. More than likely, they'll be among the unfortunate hosts for the pests and suffer enough before they're treated. But fleas can come inside your home on your clothes, on plants you bring in from the garden or anything else that will sustain them until they get to the carpets, furniture and countless fabrics that decorate your dwelling.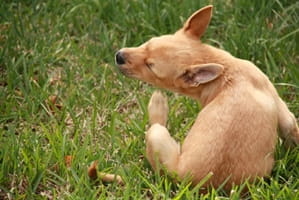 The key is to treat your yard just as you do your house. Since it may be a lot larger and more difficult to isolate the culprits there, it's best to call in a commercial pest control team from a company like Abel Pest Control. They can assess the scope of the project, come up with a treatment plan and rid your property of fleas and their larvae whether they've remained outdoors or infiltrated your home.
Yard maintenance
Good lawn care will keep fleas at bay. These insects are drawn to shady areas and long, moist grass. If the lawn is cut short and not watered any more than necessary, it will deter them. If you have other vegetation on your property, take the same precautions so they don't harbor fleas as well. Cut back tree branches that are low-lying and shrubbery that's overgrown and touching the house.
In addition, practice pest management that will keep rats and mice away from the premises. Keep garbage bins well-fitted with covers and placed some distance from the house. Seal any cracks in foundations and gaps around any pipes or cables going into the house. These steps will help you keep rodents, which are prime carriers of fleas, from getting into your home.
To stop fleas from developing habitats where they can lay eggs, remove debris and yard waste from your property. That includes any piles of lumber, bricks, stones and discarded plant pots. Any of these places may get damp and invite fleas to seek refuge there. Also, don't neglect the crawl spaces under porches and decks.
Watching over pets
Finally, in spite of your efforts to remove fleas from your property, your dogs and cats may become infested with the insects. If they're seen scratching excessively, suffer hair loss or develop scabs, fleas are a likely cause. Over-the-counter remedies may not be effective, so a visit to a veterinarian may be necessary, in addition to bathing with flea shampoo and combing out their fur.