What do I do if my mattress has bed bugs?
Abell Pest Control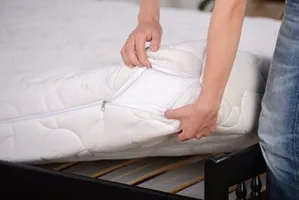 If you have a bed bug infestation and you trace it back to your mattress, you may go into an initial panic. Many people may blame their mattresses for the problem, and immediately throw them out. However, bed bugs are sneaky pests and may show up in other areas, such as your curtains, your rugs and even other pieces of furniture. So tossing your mattress may be the wrong move. Consider these tips if your mattress has beg bugs.
Tossing the bed
If you do decide to throw out your mattress, there are some considerations you need to make, Bed Bug Central noted. Bed bugs do inhabit other areas of your home, but your bed may be hosting the largest amount of this pest. If that's the case, throwing the mattress out will get rid of a good amount of the pests. However, you need to think about how you're going to get rid of your mattress. If you don't eliminate the bed properly, you may have an even bigger issue on your hands and cause the infestation to spread. Think about whether you plan to leave it outside by the dumpster, where someone may just come by and pick it up. This could be dangerous, as then the infestation of bed bugs spreads. You may want to find out what time the trash comes each day, and immediately bring the mattress out right before the garbage man comes. You might also think about marking the mattress so a passerby knows to avoid it.
Use a friend
Before bringing out the mattress, think exactly about how you are going to remove it. If you try to take it out yourself, you may end up dragging the mattress across the floor and spreading bed bugs along the apartment building or home. Think about asking a friend to help you bring it out so you can navigate a little more smoothly. It will also prevent you from dragging the mattress on the floor, and your friend can give you ideas on best places to leave it.
Getting a new mattress
If you are unsure if bed bugs still are crawling around your home, it's important to protect your new mattress. Consider investing in a bed bug lock encasement, which can keep bed bugs from infesting your mattress or box spring, Mattress Discounters advised. You can purchase these items almost anywhere, and they zip right around each piece. As they are made out of plastic, it's important to check them regularly to make sure there aren't any rips or tears in the vinyl.