When is it time to call a professional pest control service
Abell Pest Control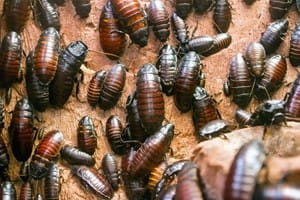 There are many situations where you can probably take care of a pest problem on your own. However, in some cases, it's better to call a professional pest control service before the problem gets out of control. Knowing when a pest invasion is too much to handle on your own is part of being a responsible property owner. That said, it can be tempting to handle every situation by yourself. Keep reading to learn how to tell when it's time to call in the professionals:
Insects
A few ants in your kitchen or the occasional cockroach in your bathroom are both instances of minor pest problems that can typically be solved by taking a look at your regular pest management strategy. For example, the ants might be attracted to a recent food or drink spill or the cockroaches might be on the search for a supply of water. All you have to do is make sure your home is cleaned properly and that there aren't any leaky pipes. Even more moderate problems can often be solved by using minimal amounts of chemical pesticides. However, if your efforts do not lead to the complete removal of the insects, it might be time to call in a professional.
An insect infestation in your foundation or walls, on the other hand, generally requires a professional. For example, wasps and honey bees can find cracks in your walls and use them to build nests. Should the problem get out of hand, this can cause structural damage to your home. Clemson University noted that large-scale bee infestations need to be treated with care, because simply using a pesticide can leave dead bees and rotting honeycomb in the walls, leading to further damage. A professional pest control service can remove the debris and seal the cracks to prevent future infestations.
Rodents
Finding even a single rodent in your home can make your living quarters feel unsanitary. Oftentimes, mice and rats will enter a property looking for a warm place to hide from the elements. If you're able to solve the problem quickly using traps and bait, you probably won't have any further issues. However, if the problem goes unnoticed for too long, it's possible that the rodents will start a nest. A professional service can help you develop a plan to keep rodents out of your property and ensure that you eliminate the infestation before it gets out of control.
If you have small children or have a health condition that makes you more susceptible to allergens, such as asthma, it's key to remove rodent problems as soon as possible. Unlike insects, rodents can irritate these conditions and cause further health issues. A professional exterminator will locate the points of entry and keep rodents outside, where they belong.
If your efforts to solve a pest problem aren't working, don't hesitate to call in professional help. The sooner you take care of the problem, the sooner you'll be able to return to a pest-free life.