CleanSafe Kitchen program aims for high level of sanitation
Abell Pest Control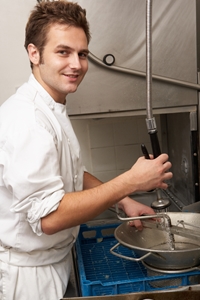 Pest control is one of the main components of a commercial kitchen's effort to keep its facility sanitized for food safety and to pass audits by health inspectors. At Abell Pest Control, the CleanSafe Kitchen program was formed for that very reason.
For both commercial and industrial food operations, the program educates management and food workers about the link between sanitation and pests on their premises. By following the training and maintenance outlined in CleanSafe Kitchen, pest issues can be reduced significantly.
With a free training video and kit from Abell Pest Control, companies can teach their workforce the latest pest management methods. The kit includes a cleaning plan that facility managers can post so all employees know their sanitation responsibilities on a daily, weekly and monthly basis.
Variety of pests
Food operations draw a large variety of pests, but rats and mice, ants, fruit flies, cockroaches and flies are the more prevalent intruders into food preparation and storage areas. Virtually all are drawn to garbage sites, but some are also drawn to certain areas - ants to countertops where spills are prevalent, cockroaches in high-moisture spots or fruit flies circulating around drains and grease traps.
The number of areas where pests can infiltrate a restaurant or food manufacturing operation is widespread and requires a comprehensive approach to pest removal.
Sanitation hotspots
The hotspots that the CleanSafe Kitchen program addresses include places all over commercial and industrial kitchens.
Beer lines and soda fountains attract flies because of the sweet smell and taste of those beverages. Nightly cleaning of beer lines is necessary to remove the odor and eliminate breeding conditions for flies. In addition to soda lines and taps, the overflow trays require daily cleaning so fruit flies won't gather there.
To reduce the risk of bacteria and viruses, counter tops, food preparation areas and serving counters must be cleaned continuously because of the high traffic in those areas.
Kitchen drains, all parts of the dishwashing area and grease traps are another breeding ground for flies in particular. The build-up in grime if left unattended may also attract cockroaches.
The moisture and darkness that surrounds floor drains and mop sink areas is another potential problem because flies and cockroaches naturally gravitate to these areas. Mop sinks may also draw rodents.
Mice and cockroaches are likely to gather in food storage areas, where keeping food elevated off the floor and filling structural gaps are important preventive measures.
Garbage areas can attract a multitude of pests, including birds, if these areas aren't cleaned regularly. All receptacles and dumpsters should have tight-fitting covers to limit access.